Campus
Sprawled out on a 11–acre campus amidst lots of greenery, the various departments of Krupanidhi group of institutions are well placed with independent blocks and an excellent physical facility. We have a number of facilities including library, hostels, student cafeteria which serves multiple cuisines to satisfy different palates, different clinical lab for students to practice upon, a gym and a fitness center with state of the art equipment imported from Italy, sports arena with facilities for various games, a digital library as well as transport facilities for our students and staff. Krupanidhi has a wi-fi campus allowing the students flexibility and luxury of working from any part of the campus at anytime. The Krupanidhi campus is comparably the best in the world. It is build to ensure and encourage all round development of its students, nurturing the world of tomorrow. College of Nursing is an independent block within the campus with well maintained gardens and building, with sophisticated lab & assembly hall as per INC & International standards
Library
It is said that books have the power to influence one's mind in a way nothing else can, and the administrators at Krupanidhi have capitalized on that thought. All the departments have their own dedicated libraries complete with internet facilities and laboratories wherever needed. The libraries have a large and extensive collection of books, and national and international journals that are updated each academic year.
The library also has a digital section where one can find a huge database of reputed online journals and international periodicals, as well as a full–text collections of faculty and document publications. The library also has internet access along with helinet and wi-fi facilities. All the libraries provide the users with a reprography facility as well.
Hostel
As a residential college, we provide clean Lodging and Sanitation facility in a healthy and hygienic surrounding separately for both Boys and Girls within the Campus. Single and Double sharing rooms with attached bath are available within the campus premises. Hostel has 24hrs water facility along with Wi-Fi facility. The hostel is supervised by Wardens who reside in the campus. Enquiries can be made in the Office of Admission and rooms will be allocated in accordance to the availability.
Wifi
Vending Machine
Washing Machine
Kitchen Facilities
Conference and Seminar Halls
Krupanidhi has state of art conference and seminar halls with excellent audio visual experience. Many programs of national and international level are conducted here. Top speakers of global standards have expressed their delight being here.
Green Campus Overview
Krupanidhi has done a commendable job in initiating the concept of green campus, where there is a juxtaposition of environmental friendly methods and education to promote sustainable and eco-friendly living. The green campus concept allows Krupanidhi to redefine its environmental culture and developnew concepts by creating sustainable solutions to curb environmental, economic and social hazards. Krupanidhi does solid, liquid, and e-waste management. It also does rainwaterharvesting, a technique of collection and storage of rainwater into natural reservoirs or tanks. This ensures to make the best use of rainwater and have back up source of water.
Solid and Liquid
Waste management
Rain Water
Harvesting

Solar Power
Plant

E - Waste Management
Cafeteria
Krupanidhi's huge cafeteria with comfortable seating facility offers myriad cuisine to cater to every one's taste buds. Right from various choices for food and energy drinks to an exclusive ice–cream counter , the Krupanidhi cafeteria is a place of delight and non-stop chatter. Here taste, hygiene and nutrition go hand in hand in equal measure, non-exclusive of the other.
Tuck Shop
There are two tuck shops in within the Campus where students can buy their required stationery items as well as other essential items of daily use from.
Physiotherapy OPD Clinic
Krupanidhi also has a Physiotherapy OPD clinic inside its campus to cater to the emergency health needs of the students.
Fitness zone
Krupanidhi also provides gymnasium facility to its students. The well-equipped gym offers an ideal platform for a daily workout for fitness freaks. The gym is a complete fitness centre that provides facilities for Fitness, Weight Reducing, Weight Gaining, Weight Training, and Executive Fitness Program.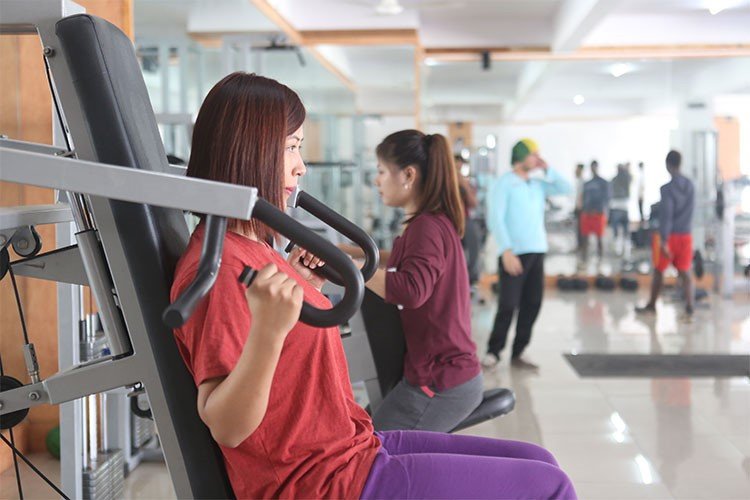 Sports Grounds
Healthy body acts as a catalyst in the process of gaining knowledge. Krupanidhi provides extensive sports facilities to the students to strengthen their physical energy level and foster team spirit. The college campus accommodates a basketball court as well as a football ground where various tournaments are held throughout the year. Evenings see a flurry of activities on the grounds of the college with students playing various sports and many even enjoying as an interested audience.
Laboratories
Science Laboratories
The College has well-resourced science laboratories with adequate and latest equipment's required to meet the curriculum and syllabi of the programs offered in Science.
Computer Science Lab
A well furnished computer labs, installed with high-end softwares related to the curriculum of the Pre-University. The labs are with power backup facility. We configured with - 2GB Memory, networked with high speed broadband internet access of 200 Mbps and a LCD projector. The students are allowed to use the internet facility in the computer lab for academic purposes like assignments, presentations, projects and online learning for their professional development.