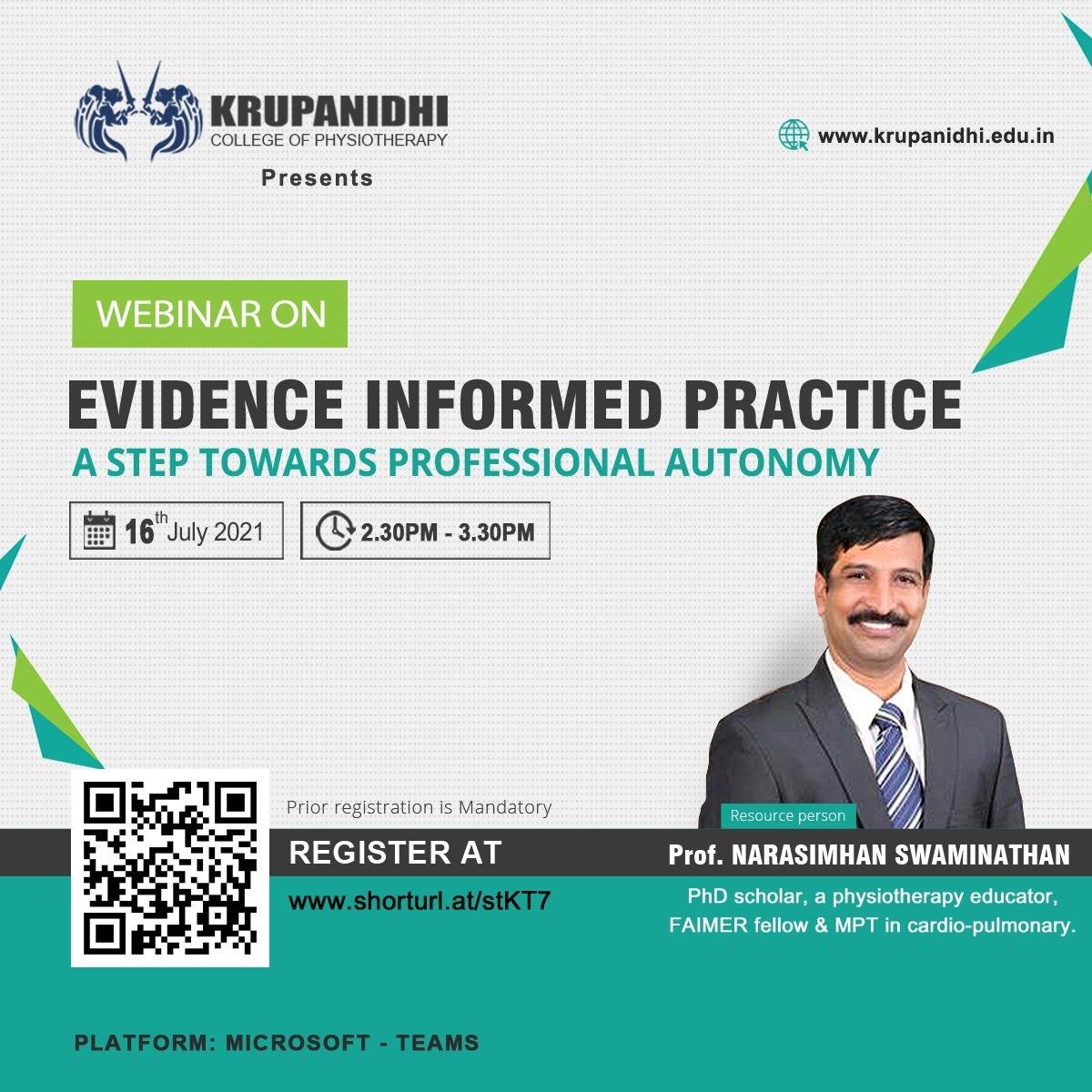 KRUPANIDHI COLLEGE OF PHYSIOTHERAPY conducted a webinar on "Evidence informed practice - a step towards professional autonomy" under the webinar series "CONTINUING PHYSIOTHERAPEUTIC EDUCATION".
Resource person- Prof. NARASIMHAN SWAMINATHAN
Today is the era of research and innovation. Research is a process to discover new knowledge and it is always evidence based. This webinar series gives insight into importance, process, available resources, barriers, challenges and feed forward in evidence informed clinical Practice.
Dr. Narasimhan Swaminathan, our resource person for the day, is a physiotherapy educator and researcher, working as Professor of Physiotherapy and Vice Principal, Faculty of Allied Health Sciences, Sri Ramachandra Institute of Higher Education and Research Chennai, India. He had completed his Post-graduation in Cardiopulmonary Physiotherapy in 2003 and FAIMER fellowship, at PSG, Regional Institute in the year 2012.
Messages and Poster were circulated in various social media platforms including WhatsApp and Facebook which included all the information and the registration link for the webinar.
The webinar revolved around the hand pain due to various factors including Carpel tunnel syndrome, and guidelines were given for the treatment of the same. Around 168 Physiotherapists were benefited by taking part in the Webinar. In the end there was a question-and-answer session addressed by the resource person.
It was a knowledge filled and enlightening session for all.