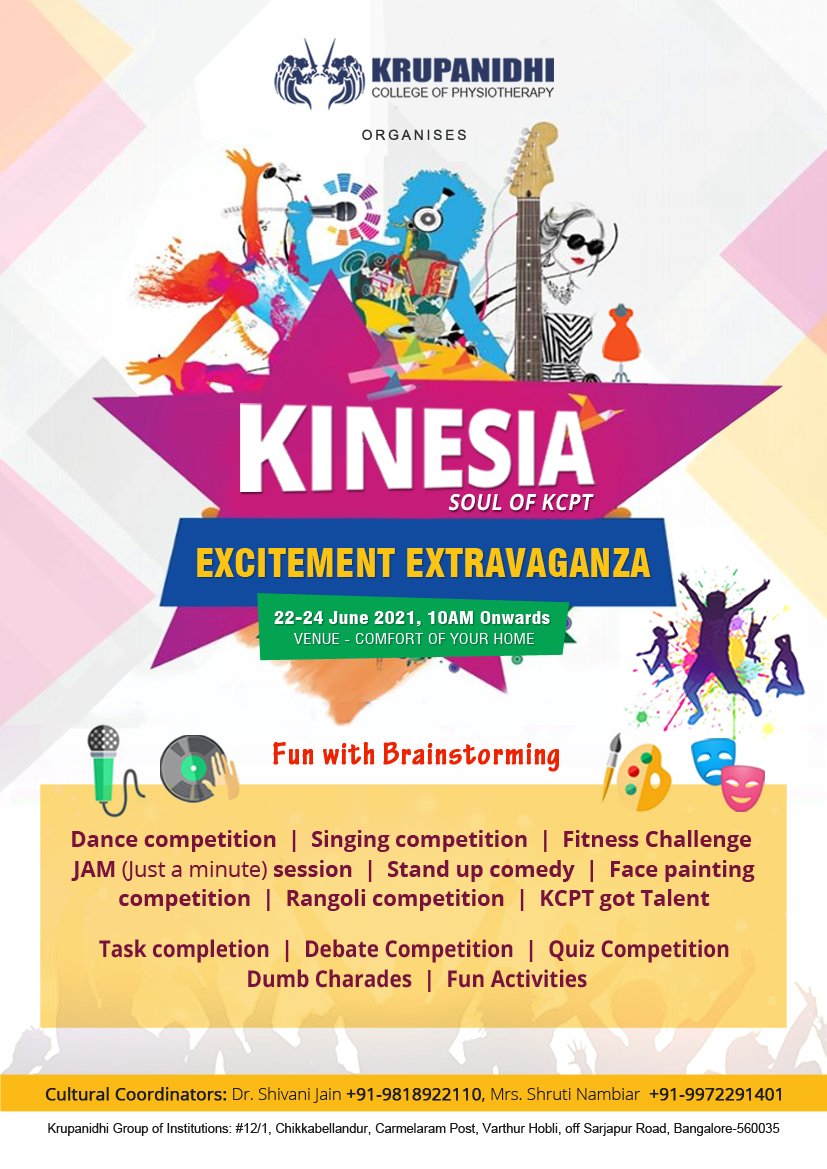 KINESIA 2021 is the annual cultural program organised each year by the Krupanidhi College of Physiotherapy (KCPT). It is considered to be the soul of KCPT. Everyone really looks forward to this day of fun and enjoyment. This year we had raised the bar and the excitement extravaganza was organised for full 3 days. It was an online event where students participated from the comfort of their homes with equal excitement and enthusiasm.
All the students of KCPT were randomly allocated into 4 HOUSES- Maitland, Butler, Bobath and Mc Kenzie. All the competitions were held and judged house-wise.
On 22nd June 2021, KINESIA was inaugurated by Dr. Samuel Paul, Director, Krupanidhi College of Physiotherapy followed by a welcome note by Dr. Milan Anand, Principal, Krupanidhi College of Physiotherapy. There was an invocation dance performed by a BPT 3rd year student followed by Rangoli competition.
The attraction of KINESIA 2021 was the AUDIENCE POLL. All the students were asked to vote for their favourite House/Team or participant. The results for all the events were based on the results by the judges and audience poll.
On the first day of KINESIA, students of Physiotherapy showcased their talent in the event "KCPT got Talent"- poem recitation, sketching, painting, nunchakus, calligraphy, which set the mood for the event. The audience was mesmerised by the various dance forms during the Dance competition. Contestants of the Singing competition took the audience to an entirely different world. Though it was a virtual event, there was no stopping of the cheering team. Many interesting Fun activities like tongue twisters, Bollywood quiz, riddles and story building hosted by the organising team was a hit among the audience. The day ended with the game of TAMBOLA for which all the winners were given prizes sponsored by KCPT.
Day 2 brought with it, both the spirit of competition and enjoyment. Audience could not bring themselves to stop hooting and cheering for all the participants of face painting competition. With the feeling of healthy and fair competition we witnessed the JAM (just a minute) session- extempore, Quiz and the Task completion competition. As the dance and singing competition continued throughout, the audience also enjoyed the intense Debate between the houses. The day ended with the last performance of the dance competition.
The zeal of excitement extravaganza was on cloud 11 on the FINALE Day of KINESIA. Female students of KCPT inaugurated the day with the art of make up in the MAKE-UP competition. The future Physiotherapists of the world stamped their fitness level during the Fitness challenge. As the fun activities kept all the audience in high spirits, Dumb Charades was an icing on the cake. All the teams gave their best and the best team won. The winners for KINESIA were announced towards the end. There were few surprise prizes like the best anchor, best participant. best cheering team etc all sponsored by KCPT. Kinesia was completed with the vote of thanks by the organising, cultural team.