RANG – DE – RANG 2K19
---
05 Aug 2019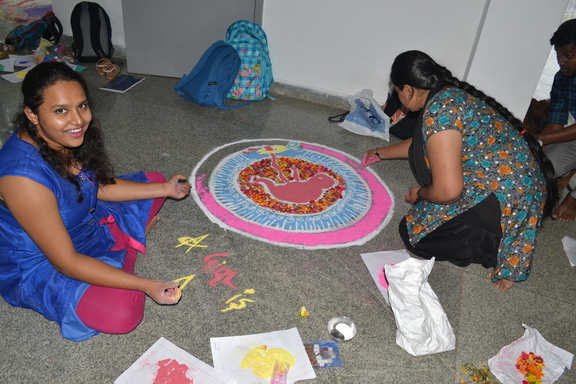 In order to create awareness and bring out the vibrant talents of students, Kala-Siri – the Cultural Committee of Krupanidhi Degree College has organized the Intra house competition "RANG – DE – RANG 2K19" - Rangoli competition on 05th August 2019. The theme of the competition was "SAVE GIRL CHILD". A total of 21 teams participated in the competition and each team work was breathtaking. Each rangoli design depicted the importance of girl child and the current situation of girl in the society. Even boys enthusiastically participated in the competition which was appreciable.
The winners were declared by the judges. Ms.Shwetha. S and Ms.Tejaswini of B.Com 3rd are 1st winners. Ms.Triveni and Ms.Deepa of 2nd year BA are 2nd winners. Ms.Prethi and Ms.Vijayalakshmi of B.Com 3rd year and Ms.Kavya and Ms.Swathi of B.Com 3rd year are 3rd winners. Mr.Sathya and Ms.Sajini of BBA 1st year (aviation) is consolation winner.
Overall the competition was vibrant and lively. Any kind of competition plays an important role in student's career. This competition is not only to enhance its design courses and student's imagination but also to intact our Indian tradition along with social awareness.