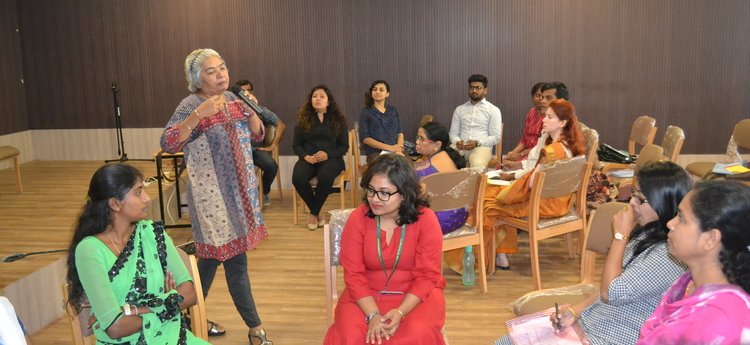 IQAC of Krupanidhi Degree College organised a two days Faculty Development Program on 20th and 21st January 2020 with the aim to enrich faculties with creative thinking and logical reasoning by imparting the skills of positive and proactive learning, Mental Health & Inner- Quality Enrichment, handling multi task responsibilities in a joyful and productive environment which results in positive outcome,
The resource person for the FDP was Mrs. Jayanthi R Prasad, Psychotherapist, senior learning and development professional, facilitator, trainer and coach. In the first session, she addressed the faculties on Psycho-drama and talked about mind concentration for achieving healthy student relationship and Tele-reporting for transforming energy in research activities. Further the speaker gave the information on availability of several educational initiative websites. At the last phase of the session she conducted an activity of throwing arrow for enhancing the inspiration level of faculties for further achievement.
In the second session the participants are divided into four groups and are asked to discuss on the self-selected topic. The outcome of the discussion is noted by the resource person. Positive and negative points of the topic are shared to the participants. Based on the discussion she highlighted the significance of multi task switching and executive functioning and strategies for effective documentation and class management.
All the sessions were very fruitful and ended with valuable questions by participants.